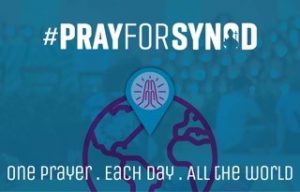 The Piarists call the young religious throughout the world to participate in an initiative that wants to be universal: its purpose is to live a CONTINUOUS PRAYER of youth in all the world, where the groups of youth of any institution, in the moment when they wish to and can, pray for the fruits of the next Synod 'Youth, faith and vocational discernment', both in its preparation as during the celebration in October of 2018.
What we want to cause is that day to day people live the intercession and the memory of this event in a very simple way along all the Church. In this year 2017 when we celebrate the 400 years of the Order founded by Saint Joseph Calasanz, we take one of his innovative initiatives of doing prayer in a continuous way by the students in his schools. From the Holy See and the Secretariat of the Synod we have received the support for this initiative that has been received with enthusiasm and that we will make between all.
The structure is very simple, because almost all information and relationship that we will maintain will be on social networks.
We indicate next how to report and participate in the initiative 'Pray for Synod':
To participate we need only to decide what day or days we can pray (within our own meeting, at the end, or in a space dedicated exclusively to this). We will begin on March 6, 2017 until the day when the Synod will end in October 2018.
Enter in the web www.prayforsynod.org and place in the calendar the day (and if possible the hour) in which we will have the prayer and some data that identify the Group (institution, place, etc.).
Send to prayforsynod2018@gmail.com any photo of the group praying to make it known to the social networks.
We will publish daily in twitter@prayforsynod, instagram prayforsynod and the follow-up by Facebook Facebook.com/prayforsynod.
In those places where you wish to summon other young people to pray, we will inform through these media.
For any questions, pictures or logos you wish to receive, contact prayforsynod2018@gmail.com.
Thanks for your cooperation in this initiative that seeks to create communion among young people throughout the Church.
Pedro Aguado Sch. P, General Father Pious Schools