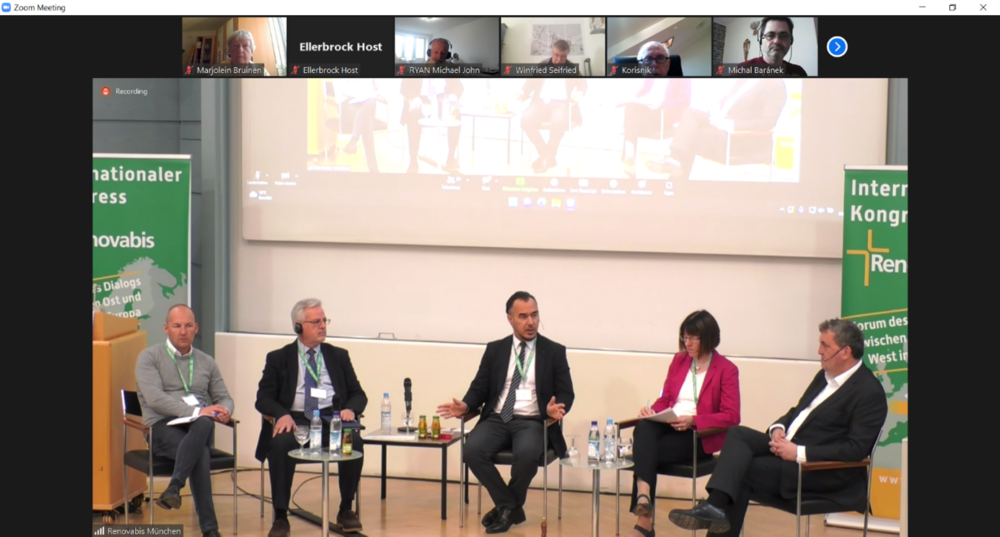 From left to right: Marc Biadacz, Berlin, José Luis Bazán, Brussels, Prof. Tado Jurić, Zagreb,
Mrs. Claudia Gaurich, Facilitator, Prof. Thomas Eggensperger, Berlin
The first one left on the top: sister Marjolein via Zoom
Rarely has the Renovabis Congress been as exciting as this time.
The 26th Congress took place on 31 August and 1 September in Munich, but there was also the opportunity to attend via Zoom. General Secretary Sister Marjolein Bruinen made use of this opportunity.
The theme was: "Departure for a better life? The challenge of fair labour migration".
Quite obviously, Central, Eastern and South-eastern Europe is used as a cheap labour reservoir to fill gaps in the economic and social sectors of Western Europe. On the other hand, many labour migrants financially support their families at home and thus contribute to improving living conditions there; many also return to their home countries permanently. Labour migration must be viewed from several angles.
At the beginning of the congress there was a small survey on the topic of labour migration, which all participants could answer with their mobile phones and the collected terms were visualized in a cloud.
Dr. Axel Kreienbrink from the Nuremberg Research Centre then built the foundation of the congress with an overview of the statistics.
This was followed by some harrowing testimonies from Poland, Ukraine and Germany.
In 5 working groups the topic was discussed in depth.
The day ended with an impressive orthodox, but in German language prayer service, in which we prayed together for peace in Ukraine.
In the concluding podium discussion, the contrasting opinions and visions clearly emerged and gave food for thought and action.
At the end Renovabis raised demands in a "Munich Appeal" on the topic of shaping labour migration fairly – in Germany and for the countries in Eastern Europe.
For more detailed information, it is worth visiting the web site of Renovabis!