The members of the Conference of Major Superiors of Latvia LKDIPAK met on 4 February 2019 to elect a new Council. The elections took place in  the Jesuit House of Mārupe near Riga in a happy and cheerful atmosphere. Archbishop Zbigņievs Stankevičs of Riga attended and chaired the Eucharist. His presence was considered important by the Latvian religious for he has been able to see – from the inside – the joy and fellowship they experience together.
The new President is Sr. Hannah Rita Laue of the Dominicans of Bethany, the new Vice-President is Fr. Jānis Meļņikovs sj, the new councillor is Sr. Emmanuēla sje (Sisters of the Eucharist).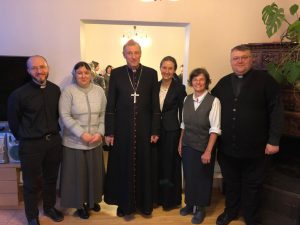 Fr. Jānis and Sr. Emmanuēla of the new Council of LKDIPAK to the left of the Archbishop;
to the right, the former President Sr. Inese Ieva Lietaviete snmpn,
the Secretary General Sr. Liliane Bertrand isoa and Fr. Rinalds Stankevičs mic, former Vice-President.
Sr. Hannah's picture is heading the present article.