A meeting of the European Vocations Service (EVS), convened by the Council of Bishops' Conferences of Europe (CCEE), was held in Rome from 28 September to 1 October 2023. The meeting brought together around 25 people, mostly 'national vocations directors' and bishops responsible for vocations from 14 European countries, with the participation of a representative of the Vocations Network of UCESM.
The title of the meeting was 'Synodal Discernment and Accompaniment in the Care of Vocations'; working time was devoted to a series of presentations on these issues, as well as some time for personal reflection and dialogue in language groups.
The presence of religious at this meeting was significant, with a total of eleven participants. Four of them work together in the UCESM Vocations Apostolate Network (UCESM_VAN), which has been functioning since May 2021 with the participation of representatives from twenty countries.
In his intervention in the open dialogue on the last day, Fr. Luis Manuel Suárez, the core group coordinator of the UCESM_VAN, asked for channels for greater collaboration of the Conferences of Religious of Europe with the work being carried out by the Bishops' Conferences in terms of vocations pastoral ministry, at a double level: in each country and at the European level. A request that can be echoed in forums such as this EVS, to join forces and inspiration in pastoral work with young people in terms of vocations, in the context in which we live.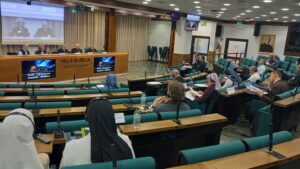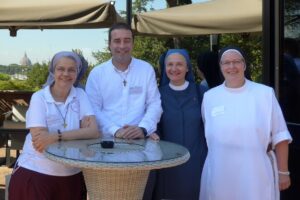 fltr: Sr. Marie-Valérie Lagarrigue ra (F), Fr. Luis Manuel Suárez cmf (E),
Sr. Anna Juźwiak ap (PL), Sr. Jordana Kleinwächterová op (CZ)