On 20 November, the Executive Committee of UCESM travelled to Rome, together with the General Secretariat, to pay a visit to CICLSAL (Congregation for Institutes of Consecrated Life and Societies of Apostolic Life). The aim of this visit was to get acquainted and to speak about various present-day topics.
Fr. Zsolt Labancz, President, Sr. Danièle Faltz, Vice-President, Fr. Nicolay Dubinin, Councillor, and Sr. Marjolein Bruinen, Secretary General, had a lively and profound talk with His Eminence Cardinal João Braz de Aviz, Prefect of CICLSAL, and His Excellency Archbishop José Rodriguez Carballo, Secretary of CICLSAL.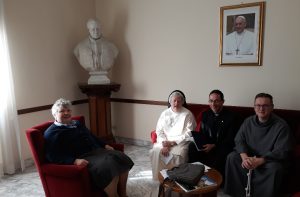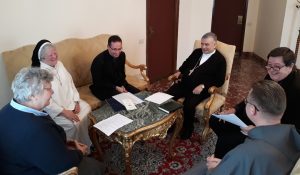 The Committee also had the opportunity to meet the head of the 1st office of the Dicastery, Dottoressa Daniela Leggio, and her assistant since one month, Sr. Mercedes Leticia Casas Sánchez, former President of CLAR. The conversation they had together was enriching and crucial.